New Photobook Shows a Range of the Mountains' Moods
$18.00 - In Stock
The San Gabriel Mountains in Southern California are remarkable for their rugged inaccessibility, subtle beauty, and diverse visual palette. They are among the most urban mountains in the world, forming a visual backdrop for millions of people and offering them recreation and renewal. Over the last nine years, I have explored the mountains and their environs by car, snowshoe, and foot, producing images of subjects all across the spectrum from natural to cultural. This book is the result.
"San Gabriel Mountains" contains 36 highly detailed, exceptionally reproduced photos and an essay about the mountains' unusual history and my own journey through this project. Eight by eight inches, 48 pages, soft cover. Printed in the USA.
Introduction to the book
Not even in the Sierra have I ever made the acquaintance of mountains more rigidly inaccessible. The slopes are exceptionally steep and insecure to the foot of the explorer, however great his strength or skill may be.
This is how John Muir summarized the San Gabriel Mountains in his book "Steep Trails," based on the three days in 1877 he spent bushwhacking up Eaton Canyon. Eclipsing the challenge of the terrain was the thorny chaparral he encountered: "It swoops into every hollow and swells over every ridge, gracefully complying with the varied topography, in shaggy, ungovernable exuberance, fairly dwarfing the utmost efforts of human culture out of sight and mind."
Today, though there are roads through them, inaccessibility is still an important attribute of these mountains. The San Gabriels have a history of yielding temporarily to human incursions...and then shutting us out again.
Indeed, given that one of the world's largest metro areas has emerged next door, it is surprising that use of the mountains has not had a direct correlation to population growth. Instead there have been cycles of boom and bust.
For example, for a period of fifty years beginning in the 1880's, throngs of Southern Californians spent their free time trekking and relaxing at the many rustic resorts that sprung up in the Arroyo Seco, Santa Anita Canyon, and backcountry. It was known as the Great Hiking Era, and it seems to have been a unique phenomenon, with no national or world counterpart.
Just nineteen years after Muir was forced "to creep more than a mile on hands and knees" under the brush, he could have ascended to roughly the same spot on Mt. Lowe via a system of electric trolleys and funiculars, crossing over a marvel of late-nineteenth-century engineering called the Grand Circular Bridge. Once arrived, he could have enjoyed a hot meal and spent the night at Ye Alpine Tavern.
To read the rest of this introductory essay, buy the book.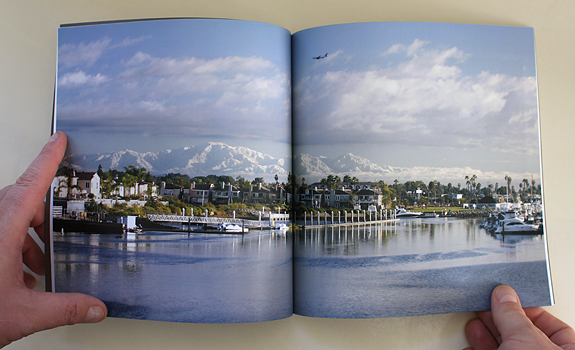 Pages 22 and 23: Eastern San Gabriel Mountains from Long Beach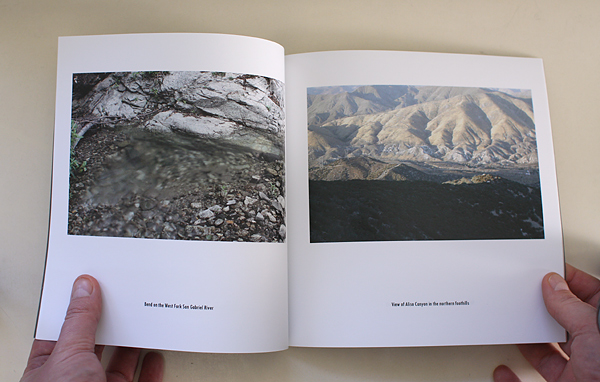 Pages 14 and 15: Sharp bend on the West Fork San Gabriel River and View of Aliso Canyon in the northern foothills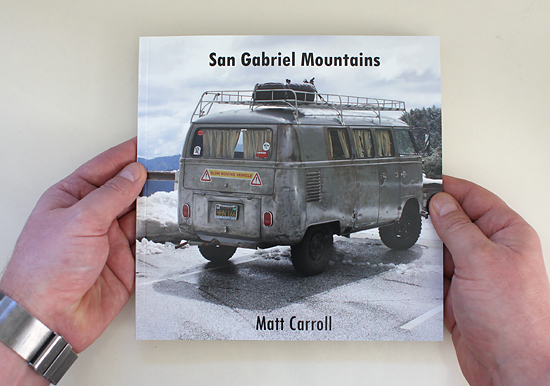 Soft cover. 43 pages. 8 inches x 8 inches.
San Gabriel Mountains
Double click below to zoom in and out. Click arrows or swipe to turn pages.